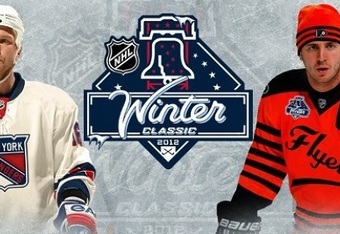 It's pretty rare that I write about hockey, but make no
mistake about it, I am a hockey fan. As a matter of
fact I am a New York Rangers fan. A Rangers fan that
clearly remembers the night that the chant 1940 was no
longer relevant to the opposition. That being said,
as much as I love the Rangers, I'm not as well read on
the game as I wish I was. Just don't let that fool you
into thinking that I don't enjoy the game.
This year the NHL Winter Classic comes to NY, well sort
of. Realistically it involves New York, but takes place
in Philadelphia, and how could anyone ask for a better
match up than the Rangers and the Flyers to kick of the
2012 part of the NHL season? One of the original six,
and a deep seeded rivalry to boot, WOW.
The NHL often takes a backseat to the NFL, and MLB, and
in the US that is to be expected. Depending on who you
ask, it also takes a little nudge back to the NBA, and
even MLS at times, deserved or not. On this day however
in really moves to the front of the line. The Winter
Classic not only gives the NHL the attention it needs,
and rightfully deserves, but it's been done so well, that
it actually draws National, and Continental attention.
Every match up it's it's short, but successful history
just gets better, and better. Having it appear at such
historical places as Wrigley field in Chicago, and Fenway
Park in Boston only adds to its allure, and the Alumni
game is just a special added bonus.
What drove me to write about this is not just that I
think this is a great idea, but unlike Inter League
play in Baseball, no one is grumbling about it.
The NHL goes on to make the event even better and quite
more interesting by throwing in the Alumni game a couple
of days before the game itself takes place and with two
teams like the Rangers, and Flyers you get such notable
names as, Bobby Clarke, Eric Lindros, Jeremy Roenick,
Rick Tocchet, and Bernie Parent(Ambassador) for the
Flyers and John Vanbiesbrouck, Ron Greschner, Brian Leetch,
Dave Maloney, Ron Duguay, Nick Fotiu, Mike Gartner, Adam
Graves..............the list goes on and on. The Rangers
were even smart enough to invite back Mike Keenan to coach.
It may be alot of fun out there, but I assure you that some
sparks will be flying as well, no matter how many senior
moments you might get.
I can't stress enough what a great event this has turned
out to be, and as a sports fan you owe it to yourself to
take a peak at the very least. This game embodies what it
felt like to be young and hit the streets to play ball
of any sort, no matter the weather, or conditions. It is
sure to bring out the kid in all of us, and might even fool
us into thinking that trying it one more time won't tear
a hamstring or groin, but don't try this at home, they are
of course paid professionals.
Tweet
Don't Believe In Plays, Believe In Players - Al Davis