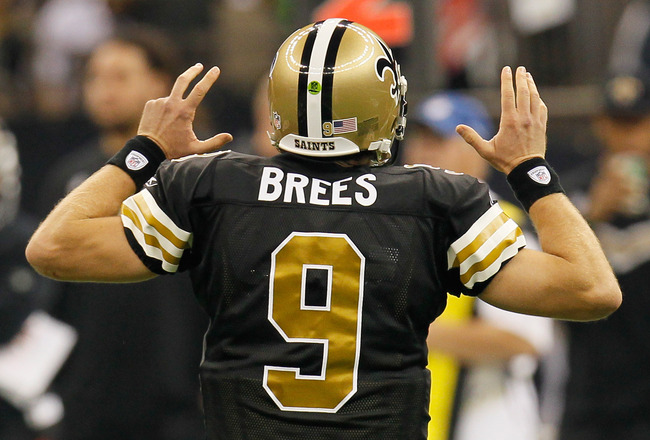 Kevin C. Cox/Getty Images
In isn't too far of a stretch to say that the way
Drew Brees passed Dan Marino for the all time
single season record for passing yards was a
statement. With the Super Bowl ring on his finger,
five Pro Bowl selection, and a Super Bowl MVP he
is certainly making the San Diego Chargers regret
the day they gave up on him. The only question I
have is, with the game so clearly in hand against
the Falcons on Monday night, did he really need to
do it then, and score to boot? It wasn't the final
home game of the season, he'll most certainly see
snaps next week, no matter how few, and it was just
a case of running up the score at that point, so was
it necessary? I am not necessarily criticising the
decision, I'm just curious if it was the classiest of
decisions? Whether is was Sean Payton's play calling
or Brees just wanting put a bow on it, I don't know,
but I can assure you it isn't a clear cut answer.
It seems a little school yard, it seems a little much,
but whatever the case, it is what it is. I just wish
some of these athletes could show a little restraint
some time. I mean what harm could it do?
Tweet
Don't Believe In Plays, Believe In Players - Al Davis