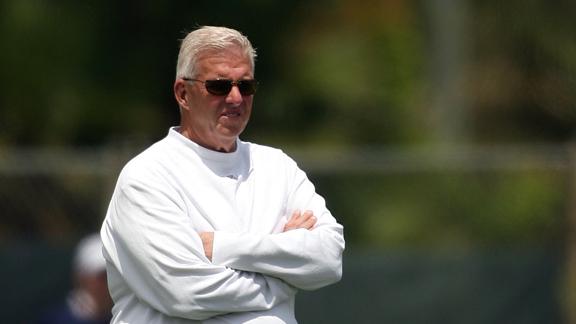 Courtesy ESPN
First of all I wish to make sure that I don't
forget to congratulate the newest members of
the Pro Football Hall of Fame, they are a
deserving group and this piece should do next
to nothing to take away from their hard work
and dedication. Curtis Martin, Willie Roaf,
Dermontti Dawson, Chris Doleman, Cortez
Kennedy, and senior selection Jack Butler are
the 2012 inductees. That's the Good news.
The bad news is that the group who had the job
and honor of electing them in, are a bunch of
MORONS! Between the Jerks up in Cooperstown
and the almighty dipsh*ts that are given this
assignment, it is extremely hard to tell which
group tops the other for ineptitude. I wrote
a
piece
regarding this very same issue back in
August to make a case for Ray Guy who is without
question the best punter the game has ever seen,
and wrote a
piece
back in December about the
recent induction of Ron Santo into Cooperstown.
Time and time again the same question begs to be
answered when the likes of Santo in Baseball and
Jack Butler for the NFL today get inducted, What
makes them a Hall of Famer today, that didn't make
them one in _______(You fill in the year)?
Butler last played pro football back in 1959, and
today someone realized that he belonged in the
Hall of Fame? FORTY THREE YEARS later, Really ?
Are you kidding me??? What kind of sick joke is
this??? There have been far too many players
inducted in after their death, fortunately Butler
84 is still alive, but why did he have too wait
so long to get a chance to enjoy this honor?
Dick Stanfel is 84 and alive as well, but he
won't get that pleasure today, he was denied.
I don't know enough about Stanfel to make a case
for him, but I do know enough about the likes of
Bill Parcells, Charles Haley, and Tim Brown that
I can say they definitely deserve to be in, but
today they too were denied, as were Chris Carter,
Andre Reed, Kevin Greene, Aeneas Williams, and
Will Shields. The crappiest part about those that
didn't get in, is that some will, but NOT today.
This is a long and complicated process that the
list of men at the end of this article are trusted
to carry out and yet they seemingly toy with the
fate of the men who actually PLAYED he game.
As a Raider fan myself, I can stand atop a mountain
and scream out more names than you can imagine,
but the again I am all to used to this. If you look
at your favorite team you too will find a laundry
list of players that legitimately belong as well,
so I know that there I am not alone. I could also
go on for days at how corrupt this process has
become, and I feel like no one is listening.
It's just one more story for the water cooler.
I know that you might notice that I didn't mention
the NBA or NHL Hall of Fames, but I don't know
enough about their issues to state them here, I
just hope they are better, even if only a little.
Also please try to grasp this if you will as I wrap
this up, the biggest gripe is not that a player does
or doesn't get elected, but that it's become so
political, and writers hold these life long grudges
against players and organizations which then in turn
influence the way the vote. Whispers today had the
rejection of Bill Parcells come down to a matter of
not being well liked. Who cares, is it a popularity
contest? In using baseball again for a moment, I
ask this, why did Eddie Murray not get in on his 1st
year of eligibility? Oh yeah, he too was not well
liked. A player close to my heart like Ken Stabler
who came out of Alabama right after Joe Namath is
not in, but may get in later, and yet he has better
numbers than Namath, just as many Super Bowl rings,
a better winning percentage, & completion percentage,
and yet Namath is in, but Stabler is not.
I could really go on, and on with the likes of Tom
Flores, Cliff Branch, Lester Hayes, Tim Brown, Ray
Guy, etc., but I won't. I will always ask this one
question if they do eventually get elected in, as I
will with any other player who didn't get in, in the
first two or three years of eligibilty; Why is it
that without them playing one more play, coaching
one more player or deciding one more game, they are
in the Hall of Fame now? Why?
Here are the folks you can ask, if you wish to:
Ari Kent Somers, Arizona Republic
Atl Len Pasquarelli, The Sports Xchange
Bal Scott Garceau, WMAR-TV
Buf Mark Gaughan, Buffalo News
Car Darin Gantt, Rock Hill Herald
Chi Dan Pompei, Chicago Tribune
Cin Joe Reedy, Cincinnati Enquirer
Cle Tony Grossi, Cleveland Plain Dealer
Dal Rick Gosselin, Dallas Morning News
Den Jeff Legwold, Denver Post
GB Cliff Christl, Green Bay Press-Gazette
Hou John McClain, Houston Chronicle
Ind Mike Chappell, Indianapolis Star
Jac Sam Kouvaris, WJXT-TV
KC Bob Gretz, KCFootballReport.com
Mia Edwin Pope, Miami Herald
Min Sid Hartman, The Minneapolis Star-Tribune
NE Ron Borges, Boston Herald
NO Pete Finney, Times-Picayune
NYG Bob Glauber, Newsday
NYJ Gary Myers, New York Daily News
Oak Frank Cooney, The Sports Xchange
Phi Paul Domowitch, Philadelphia Daily News
Pit Ed Bouchette, Pittsburgh Post-Gazette
StL Bernie Miklasz, St. Louis Post-Dispatch
SD Nick Canepa, San Diego Union Tribune
SF Nancy Gay, FoxSports.com
Sea Mike Sando, ESPN.com
Tam Ira Kaufman, Tampa Tribune
Ten David Climer, The Tennessean
Was David Elfin, AOL Fanhouse
Darryl Ledbetter Atlanta Journal-Constitution
At Large Howard Balzer, The Sports Xchange
At Large Jarrett Bell, USA Today
At Large John Clayton, ESPN/ESPN Magazine
At Large John Czarnecki, FOXSports.com
At Large Dave Goldberg, AOL Sports/Fanhouse
At Large Peter King, Sports Illustrated
At Large Ira Miller, The Sports Xchange
At Large Len Shapiro, Miami Herald
At Large Vito Stellino, Florida Times Union
At Large Jim Trotter, Sports Illustrated
At Large Charean Williams, Ft. Worth Star Telegram
Tweet
Don't Believe In Plays, Believe In Players - Al Davis