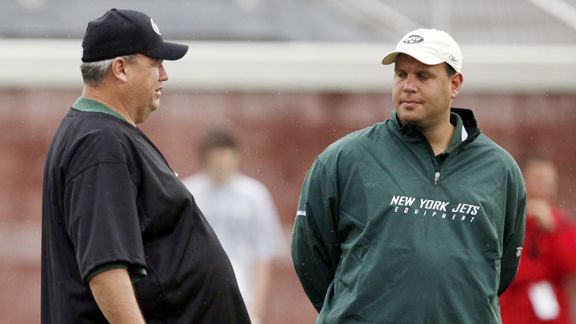 William Perlman/US Presswire
It may sound like a silly question to some, but it is
certainly one worth asking. Volatility is very quickly
becoming a part of the identity of these New York Jets,
and just when it seemed like everyone wanted to play
for Head Coach Rex Ryan, there seems to be a bit of
discord in the undercarriage. This loosey goosey bunch
may have been given a little too much freedom, and
just the the Boston Red Sox had their beer taken away
this year, the Jets may have to be reigned in a little
as well.
Today's news that linebacker Bart Scott was given
permission to seek a trade was just one more thing that
made me wonder if this ship is going to look a little
like the
"Costa Concordia"
by season's end, and if a
new captain is going to be at it's helm next year.
The Jets ended the season with the their offensive
captain, Santonio Holmes hating his quarterback, and
all but sulking on the bench as the tried to salvage
one last win in hopes that they could qualify for the
playoffs. When they had a chance to support their
QB and not pick up an option on Holmes' contract they
stuttered and did nothing. Later on in the offseason
when asked about Peyton Manning they once again showed
their #1 QB zero support, and have since done nothing
to squelch any rumors that they might be interested.
Though it's easy to say that just about any team would
do that if they had a chance to get Manning, I would
point out that his own team may not want him.
That leads me to today, and the news that one of Rex's
guys, Bart
"Can't Wait!"
Scott has been given permission
to seek a trade, with THREE years still left on his deal.
Why sign someone to that kind of deal if you don't think
he's gonna be here for the duration? Truth is the Jets
thought he would be here for the full contract or so, but
something has obviously changed, and not just with Scott,
but all of Rex's guys. Throw into this mix the fact that
ex-jailbird Plaxico Burris has no desire to return to the
team because of their lack of discipline. Did you ever
think you would hear anything that crazy tied to Plaxico
Burris?
I initially wanted to say that this was a Rex Ryan issue,
and make no mistake that he shares quite a bit of the blame
here, but I'm afraid that if this ship sinks in the upcoming
season GM Mike Tannenbaum may be looking for a job as well,
and it wouldn't be unfair to say that he is just as much at
fault as anyone associated to the team, maybe more.
Tweet
Don't Believe In Plays, Believe In Players - Al Davis