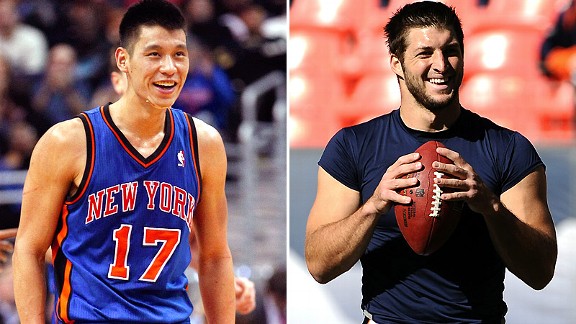 Getty Images
The sampling is way to small, and four games out of
about 66 are equal to only about 6% of the season
this year, but I already think that Jeremy Lin will
be a more established NBA player than Tim Tebow will
be an NFL player. So what?, and why compare the two?
Just because Lin said that he admired Tebow, and has
been a bit of an instant success, who may or may not
be a bit of a Jesus fan? Again, so what?
Everyone is looking for a link, Rich Cimini of ESPN NY
@RichCimini tweeted, "Year of The Undrafted Free Agent
in New York: Victor Cruz and Jeremy Lin.", Uh Cruz won
a Super Bowl the Knicks are under .500. Lin seems to
be a little bit of a Bible thumper, so he immediately
has to be compared to Tim Tebow? Well the stats don't
support that. In his last four games, the brunt of
this "Lin-sanity", Lin is averaging 28.5 PPG, 8 Assts,
and the Knicks are 4-0, and only three of those games
are starts. Those three stats alone dwarf anything
Tim Tebow did as an individual, even though it's true,
his team did win. All that said with that kind of
success and attention, there will come the hate too.
After the game Andrew Bynum said: "Today we just added
to his hype and probably kept him in the league for 10
years", hmmm, a little envy maybe?
I saw his post game interview after the Knicks, Laker
game at MSG, and at no time did he mention Jesus, Thank
God, or anything like that, but he did mention teammates,
and point out individuals. The only comparison I see so
far is that they are athletes, weren't expected to do
anything of any significance, and win. Not a bad combo.
Tweet
Don't Believe In Plays, Believe In Players - Al Davis