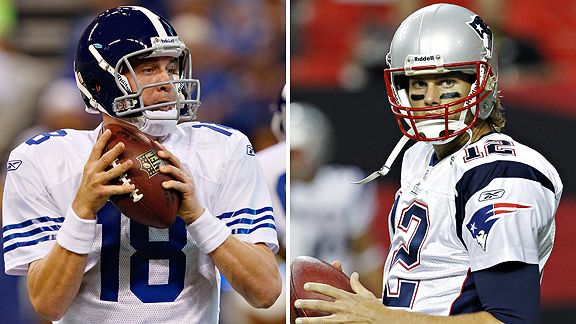 Getty Images
Aaron Rodgers:
There is an expression that goes something
like this: "he's getting too big for his britches", and
you can probably apply that to Aaron Rodgers who's gotta
still be feeling the effects of looking like Brett Favre
against the Giants in a home playoff loss at Lambeau.
I am all for making the Pro Bowl a better game, but when
you hear Rodgers say: "I was a little bit disappointed.
I felt like some of the guys on the NFC side embarrassed
themselves....", it makes you wonder if maybe his helmet
is on a little too tight. Loosen up Aaron.
Peyton Manning:
Bart Hubbuch of the NY Post tweeted this
earlier:
"Peyton Manning made no guarantees last week
about his health, then says this week that he expects to
be cleared. What changed in six days?"
, and I have to
agree, that is an excellent question, what changed?
You can find Burt at @NYPost_Hubbuch. I'm sure that this
off season will be a little more atomic than just Andrew
Luck, and RG III

Tom Brady & Joe Montana:
Monte Poole of the Oakland Tribune
wrote a
column
and makes a case for Tom Brady being better
than Joe Montana. You buy it? He bring up great points,
but it seems almost sacrilege. Even though he makes a great
point at times I still feel like I would want Joe over Tom
if the chips were on the line. How about you?
Tweet
Don't Believe In Plays, Believe In Players - Al Davis