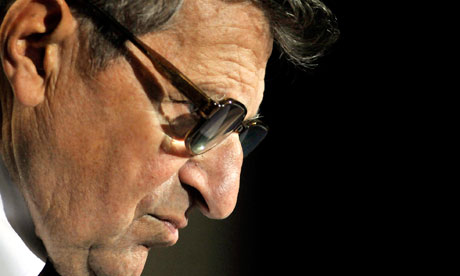 Photograph: Pat Little/AP
I wanted to make sure I wrote something today like
I wrote when folks piled on Joe Paterno and bashed
him for being as bad as Jerry Sandusky. I said
that we should wait to get ALL the facts. Well
the facts are in, and so much so that if I hear
any more I may have to break down and cry.
The independent investigation took place, dirt was
found, and even dirtier dirt became unearthed, and
now there is no question. Joe Paterno was dirty,
no matter what the intentions, he failed miserably.
Whether it was ego, fear, greed or even ignorance,
IT WAS/IS WRONG. I never said he was clean, I just
felt that we should wait and see, and though this
could have exonerated Paterno, it didn't. All this
did was show us all just how dirty, weak, and greedy
humanity can sometimes be at the wrong time.
Joe Paterno sinned, and sinned deeply, now his family
and the victims are all left to ask that one question,
WAS IT WORTH IT? I think not.
Tweet
Don't Believe In Plays, Believe In Players - Al Davis