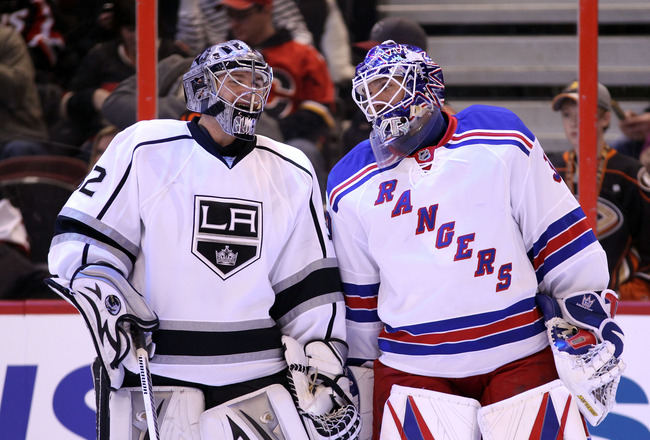 Christian Petersen/Getty Images
My headline may very well be on the money as far as NHL
Execs are concerned, but if this does happen, it is
going to be a easy Stanley Cup conquest for the Kings.
Last night I was bold enough to predict that the Rangers
would sweep the Devils in the Eastern Conference Finals,
and this morning you can see that I'm wrong. Now that
doesn't mean that the Rangers won't this series, but if
they do, I am even more confident in saying that the
Kings will go on to sweep them just as they swept the
St. Louis Blues, and they are on their way to sweeping
the Phoenix Coyotes.
Hockey prognosticators are quick to tell you that this
wasn't supposed to be the year the Rangers won the Cup
anyway, and that's not in their defense, but rather the
plan the organization had. This year was supposed to be
another step, and then WHAM! next year they would break
out, and bring home the Cup. It's a good thing that's
the case, because I see no offensive FIRE power, nor do
I believe that these Rangers can take on the freight
train that is the LA Kings hockey team. They went to
seven games with an Ottowa team they should have beaten
in less, seven games with a Capitols team they should
have beaten in less, and after a 3-0 game one victory
in their own building against an inferior Devils team,
they once again lost game 2 as they did in the previous
two series. They don't they own building, and the Kings
seem to own everyone's building in these playoffs.
I hope I'm wrong, but as of right now, I don't see it.
Tweet
Don't Believe In Plays, Believe In Players - Al Davis