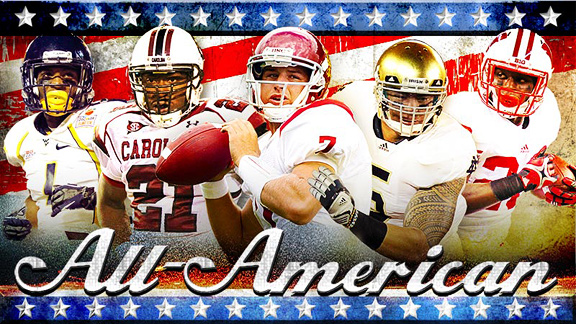 ESPN . com Illustration
Last weeks picks turned out to be pretty good, so if you took
my advice and watched any of them, chances are you weren't
disappointed. This week could be just as good, because it will
be difficult to be better, and a dud is always bound to appear.
Here's a few games I think are worth watching if your into the
college football scene:
1. Ohio State vs Michigan State - Michigan State already lost
to Notre Dame this season, so if they lose this one at home
this season will be nothing but a footnote for their fans.
2. Wisconsin vs Nebraska - The Cornhuskers just don't strike
me as a team that will compete at a high level this season, so if
they drop this one to an unranked Badger team at home, next
week at Ohio State might prove to be a disaster for them.
3. Tennessee vs Georgia - This week is a little sparse, but this
is still worth keeping an eye on. #5 Georgia cannot afford a
letdown against a team that is hoping to catapult into the top 25
at their expense. Tennessee could surprise some people here.
Tweet
Don't Believe In Plays, Believe In Players - Al Davis