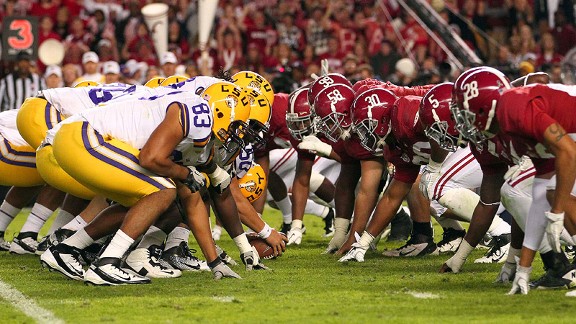 Marvin Gentry/US Presswire
These games are really living up to the hype most weeks,
and last week was really no different. A pretty solid
lineup all around and though this week may be no less
important it's still gonna be hard to match.
Here are a few to keep an eye on:
1. Alabama vs LSU - This game is really a no brainer.
There's alot on the line and the loser will most probably
be knocked out contention for any shot at the title.
2. Texas A&M vs Mississippi St. -Mississippi St already
showed you last week that they aren't in the same class as
Alabama yet, but a W here from either team can get them
high enough in the top ten if they run the table the rest of
the way to get them a decent BCS Bowl bid.
3. Nebraska vs Michigan St -Nebraska trying to show it
can win an important road game, and Michigan St will try
to show it can beat a ranked opponent.
Honorable Mentions:
Texas Tech vs Texas
Oregon vs USC
Oklahoma St vs Kansas St.
Tweet
Don't Believe In Plays, Believe In Players - Al Davis